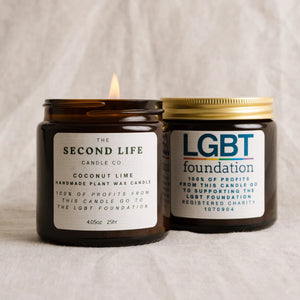 The Second Life Candle Co. LGBT Foundation Charity Candle - Coconut and Lime
Regular price
Sale price
£12.00
---
The Second Life Candle Co is a company with a mission to do good.
We're a not for profit company, which means 100% of profits from our candles goes to charity.  
We hand craft small batches of candles in recycled glass containers, with a cotton wick, free from plastic and phthalates. Our labels are made from 100% waste paper and 
the ink and adhesive is completely natural, non toxic and vegan too.
Our natural soy candles are beautifully fragranced to create a comforting, nostalgic experience for you.
All of our candles are
vegan, cruelty free + eco friendly.
We encourage you to reuse your containers, once you have finished your candle. If not please, feel free to send the container back to us and we will re-use it for a discount off your next purchase with us. 
The Candle
A tantalising fusion of fresh coconut, and lime and invigorating verbena soothed by luscious vanilla. An irresistible classic.
Top Notes: Lime zest, lemon verbena
Middle Notes: Coconut, peach
Base Notes: Vanilla, buttermilk
We use 100% natural soy wax, which means our candles burn clean and paraffin free. Hand-poured in small batches, in recycled glass jars. Our candles are plastic-free, vegan, cruelty-free, Phthalate-Free and Zero Waste.
The Charity
LGBT Foundation is a national charity delivering advice, support and information services to lesbian, gay, bisexual and trans (LGBT) communities. With a history dating back nearly 40 years, it campaigns for a fair and equal society where all lesbian, gay, bisexual and trans people are able to reach their full potential. They support over 40,000 people directly every year, and a further 600,000 online. They provide direct services and resources to more LGBT people than any other charity of its kind in the U.K. you can find more information about this wonderful charity at https://lgbt.foundation/
Take a moment to mindfully light your candle, and remember who you light it for.