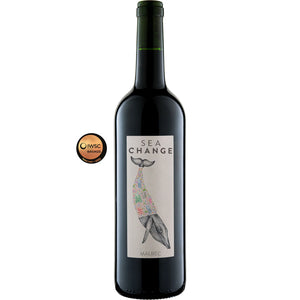 Sea Change Malbec 2020
Regular price
Sale price
£13.49
---
IGP D'Oc, Languedoc, France
Suitable for:
Vegetarian & Vegan
The most popular red wine of recent times, it is easy to understand the appeal of Malbec. A wonderful grape variety that produces wines that are both rustic in charm but also smooth, sophisticated and full of flavour. A grape variety that for years merely played a big part in famous wine blends such as Bordeaux is now a true star in its own right.  This Sea Change Malbec is classic in style, full of rich black fruit and spice but also refined and elegant. Produced by the wonderful Chateau Canet in the heart of the Minervois, we feel it characterises everything that is loved about this amazing varietal.
Tasting Notes
This classic Malbec is pronounced on the nose with refreshing notes of violets and jasmine alongside rich, ripe blackberries. Sea Change Malbec is a wine that is both refined and fun, fruit-forward and vibrant with great structure and balance. We feel it is a truly versatile wine that can be enjoyed on its own or as an accompaniment to a wide range of great food dishes. 
Food Pairings
Perfect with a variety of dishes, Sea Change Malbec is a great match to a winter roast, a grilled Ribeye steak or a rich vegan ratatouille. However, its smooth fruit structure also lends itself to some lighter dishes or even allows Sea Change Malbec to be enjoyed on its own. It is a true all-rounder.
When to drink
Our Malbec is best enjoyed when youthful and fresh but will last for up to 2 years if stored correctly.
Environmental Benefits
The oceans constitute around 71% of the Earth's surface and produce over half of the world's oxygen. They also absorb over 50 times more carbon dioxide than our atmosphere (National Ocean Service) and act as a major food source for approximately half of the world's population. By purchasing this Sea Change Malbec you are helping to protect the Earth's key life support system.